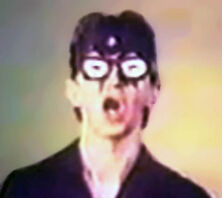 The Chinaman, AKA China Man, played by Gerald Casale, is an embodiment of the stereotypical wise Asian master. He appears in a brief shot in the "Secret Agent Man" video. He wrote the introduction to Booji Boy's book My Struggle. Chinaman speaks the lyrics to "Social Fools" in the studio / demo version of "Somewhere With Devo".
China Man appeared with three other DEVO characters in at least three confirmed shows in 1975
1975

1975-04-04 "Boogie Boy, China Man, Jungle Jim, & The Clown" perform before two consecutive showings of the film "Pink Flamingos" directed by John Waters [1]
1975-09-31 "Booji Boy, The Clown, Jungle Jim and The Chinaman" [2] wore blue worksuits at the WHK Auditorium (WMMS-FM Halloween Party), Cleveland, OH [3]
G.V.C. was seen donning the eyeglasses in later performances.
The novelty glasses worn by Gerald V. Casale appear in "The Office " episode "The Dundies" (2005), worn by Steve Carell playing Michael Scott. The frames of the novelty glasses were worn by Mark Mothersbaugh in the oh, no! it's DEVO videos and album cover.
References
Edit
↑ Daily Kent Stater 4 April 1975. Page 9 Advertisements. "DEVO (The De-evolution Band) 'How LOW can you go!" featuring Boogie Boy, China Man, Jungle Jim, & The Clown" KSU library online archive.
↑ Punk Diary, 1970-1979: The Ultimate Complete Day-By-Day Reference Guide to Punk by George Gimarc (1994). "They come out in their costumes as Booji Boy, The Clown, Jungle Jim and The Chinaman. In the liner notes to the 1992 Ryko CD release 'The Mongoloid Years,' Mark remembers, 'using homemade electronic drums, and a mini-moog, a clavinet, a customized lobotomized Hagstrom guitar, and bass, we proceed to torture stoned urban hippies with 'performance art' way before that label even existed..."
Ad blocker interference detected!
Wikia is a free-to-use site that makes money from advertising. We have a modified experience for viewers using ad blockers

Wikia is not accessible if you've made further modifications. Remove the custom ad blocker rule(s) and the page will load as expected.