Something ELSE for Everybody
Talk

0
256pages on
this wiki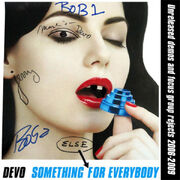 Something ELSE for Everybody
is "a compilation of early DEVO demos and focus group rejects written between
2006
and
2009
. They were relegated to bin 86 for various inexplicable reasons.
"
SEFE contains the releases Monsterman and Don't Shoot (I'm a Man) [Polysics Remix]  along with nine demos.
First Released: 2013 (Show All)
Tracks: 11

1. Monsterman
2. On the Inside
3. Should-a Said Yes
4. Think Fast
5. Raise Your Hands
6. Message of Hope
7. Big Dog
8. Can U Juggle?
9. Throw Money at the Problem
10. I Luv Ur Gun
11. Don't Shoot (I'm a Man) [Polysics Remix]

Trivia / Info
Edit
Monsterman was released as a single and music video. It is the theme song to the TV show Monster Man (2012). The making of the Monsterman video was featured in the season one finale episode "Devoman Vs. Clevezilla."
The track 11 Polysics remix was available in 2011 as a limited time digital download in association with Macbeth's "Kent" Devo shoe promotion.

Devo was to contribute this remix to Occupy This Album: 99 Songs for the 99 Percent, but did not.
External Link
Edit
DEVO: SOMETHING ELSE FOR EVERYBODY - Club DEVO post 2013-6-25